This is part of a research project I'm doing for my Psychology of Music class at NYU, thus the formal tone.

Update: here's the finished product.
The backbeat is a ubiquitous, almost defining feature of American popular and vernacular music. Clapping or snapping on the backbeats is generally considered by musicians to be more correct than doing so on the strong beats. However, audiences have a tendency to clap or snap on the wrong beats, to the irritation of the performers.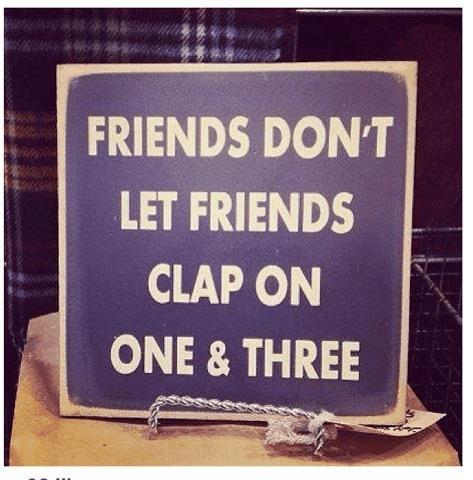 On October 6th, 1993, the blues musician Taj Mahal gave a solo concert at the Modernes Club in Bremen, Germany. The concert was later released as the album An Evening of Acoustic Music. On the recording, Taj Mahal begins to play "Blues With A Feeling," and the audience enthusiastically claps along. However, they do so on beats one and three, not two and four like they are supposed to. Taj immediately stops playing and says, "Wait, wait, wait. Wait wait. This is schvartze [black] music… zwei and fier, one TWO three FOUR, okay?" He resumes the song, and the audience continues to clap on the wrong beats. So he stops again. "No, no, no, no. Everybody's like, ONE, two, THREE, no no no. Classical music, yes. Mozart, Chopin, okay? Tchaikovsky, right? Vladimir Horowitz. ONE two THREE. But schvartze music, one TWO three FOUR, okay?" He starts yet again, and finally the audience claps along correctly. To reinforce their rhythm, Taj Mahal continues to count "one TWO three FOUR" at various points during the song.